Behold: The Goblin Queen.

Dragon*Con. Atlanta. 2011. Marriott Marquis: Atrium Level Elevators.

Madelyne Pryor Portrayed by Belle Chere: Internationally Renowned Cosplay Model & Artist. ~

I hate cosplayers like this. At this stage, its not about the costume or the character anymore, its about their "oo soh sexay boday". And no, this is not about jealousy - I can eat what ever I want without apperance pressure. Cause i dont care. :D

Hate? That's pretty strong, given that we've never met. I'm trying to understand where such a strong emotion is coming from, cause even if jealousy or body-image was an issue it should never warrant 'hate'. The costume, while undeniably sexy in design, is entirely accurate to the character, so it's not even like I'm twisting the image of a beloved character. Perhaps you need to redefine 'hate'. I highly recommend giving this a read: http://www.pinupgirlstyle.com/profiles/blogs/sticks-and-stones

Not pictured - my husband, standing next to me, dressed as Mister Sinister, who 'created' the Goblin Queen/Madelyne Pryor. We were costuming together.

Also, I pretty much eat whatever I want, too.

long as you did what you wanted no one should tell you ANYTHING, and i love your cosplays anyway. buuuut

…is that what the goblin queen actually looks like, or did you actually try to "sexy it up" some?

like, seriously, i just don't know anything about the series and am curious.
Yup, s'what it looks like.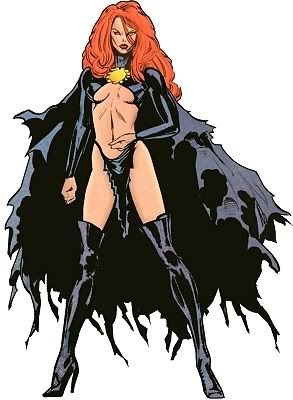 I don't think I could sexy it up anymore than it is. And if you haven't read Inferno, I highly recommend it. Seriously.